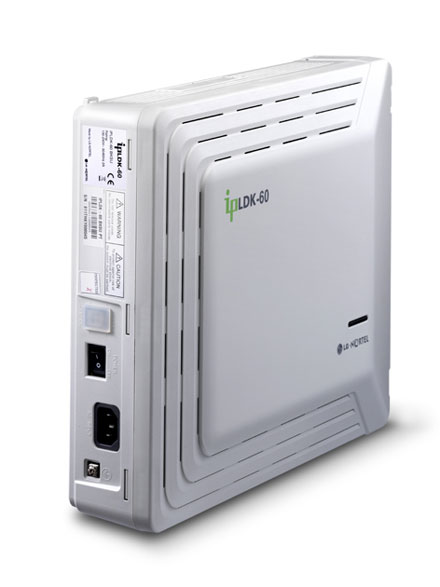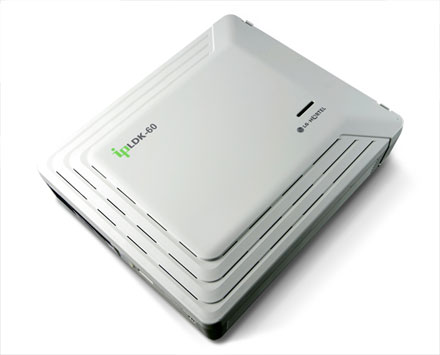 Click here for a Special Limited Time Promo

Keep costs low and options open with a voice platform that can support analog and digital lines —and provide a smooth migration to IP. Enhance employee productivity and increase customer satisfaction with a robust feature set that improves service.Do it with an affordable and flexible hybrid communication system that fulfills the converged voice and IP needs of your small sites or branch offices

.

Introducing the LG-Nortel ipLDK-60

The LG-Nortel ipLDK-60 combines innovative, flexible architecture with the latest in Voice over IP (VoIP) technology and advanced applications to offer a new type of communication platform to small and medium-sized businesses. Designed to support both analog and digital lines, the ipLDK-60 is ideal for businesses that have a mix of technologies — or are planning to transition from analog to digital phones. Whatever your needs, ipLDK-60 can deliver. And, as your business requirements change, both in capacity and features, the ipLDK-60 can change with you taking your business communications to the next level.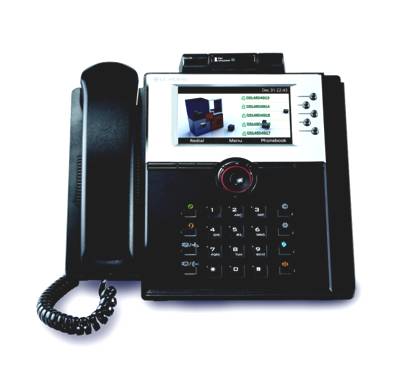 Feature-rich —for a rich user experience
The ipLDK-60 basic service unit provides a variety of powerful telephony features for effective business communications, including internal Short Message Service (SMS) through fixed line, Caller ID (CID) and conferencing. The system also offers advanced PABX options — such as voice mail, interactive voice response (IVR) and IP connectivity. The following options can be enabled through the activation of a simple license:

• TAPI Interface – Allows third-party TAPI software to interface with the ipLDK-60 — activated on a per-system basis • EzPhone – Activate a Windowsbased TAPI soft phone for 48 users •Phontage – Windows-based VoIP soft phone activated on a per-user basis • IP Networking – Activate up to 72 branches for IP networking on a per-system basis • ezAttendant – Windows-based PC attendant console activated on a per-system basis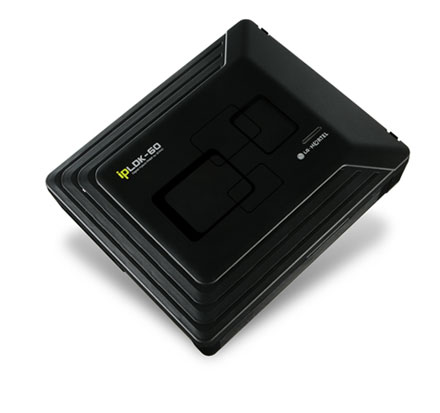 Simplicity and intelligence in one platform
A simplified architecture provides plug- and-play capabilities with full hybrid extensions, scalability up to 48 ports and user-friendly operations, administration and maintenance tools. Through its plug-and-play facility, the ipLDK-60 delivers maximum flexibility; it can support a variety of terminals including analog SLT, fax, digital and IP phones. When connecting external lines, the ipLDK-60 can differentiate fax from voice and automatically deliver them to the appropriate terminal type.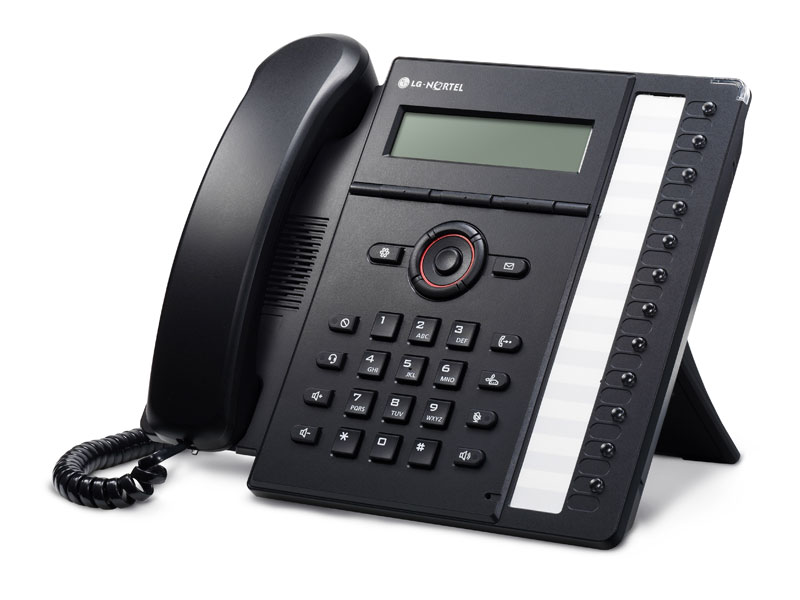 Ready for IP —when you are
The IP-enabled ipLDK-60 platform allows you to migrate from today's hybrid environment to IP at your own pace. Affordable, IP expansion cards are available and easy to install when your business is ready to transition to IP. So whether that time is now or down the road, your options are open and your investment secure.
Keeping productivity high and costs low
Whether your business has four employees or forty-eight, improving your bottom line is usually top of mind. The ipLDK-60 includes several call budget control capabilities to minimize your communications costs. For example, call traffic monitoring and forced call control by an authorized manager prevent employees from abusing company phone resources. Least call routing (LCR) pre-selects the cheapest call routes for prepaid calls— ensuring the lowest cost and greatest value every time.
Key Features:
• VoIP Services (SIP, H.323/H.450) • PC Soft Phone • Automated Call Distribution (ACD) • Centralized Attendant Service • QSIG and IP Networking • Conference Room (15 parties) • PC Admin in Maintenance • Direct Inward Dialing / Direct Inward System Access (DID/DISA) • Call Recording • Mobile Extension • Call Statistics and Traffic Analysis • Internal SMS Text Messaging • Hunt Groups • Multiple Class of Service with Walking COS • Internal / External Call Paging • Door Phone Box • Least Call Routing (LCR)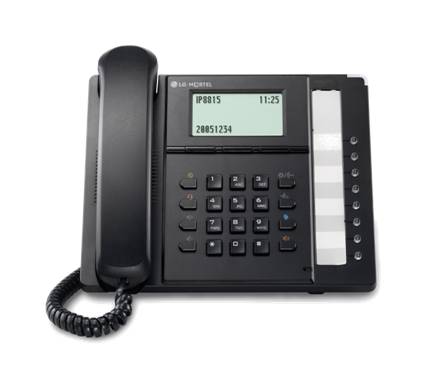 Case Study
HEALTHCARE
Enabling Better Patient Care in Small Medical Centers through Providing Efficient Communications
Wouldn't it be great to provide your receptionist with time to focus on "in-office" patient care or administrative responsibilities rather than continuously answering the phone!
The LG-Nortel ipLDK-60, office telecommunications solution can help. The advanced functionality of the LG-Nortel solution allows calls to be seamlessly directed to different functional groups or people within the office. In addition, basic office information, such as office hours, can be recorded and played back upon the patient's request.
The investment in a communications system does not have to be complicated or expensive, however, the system must be reliable as it is a vital component in the everyday operation of the office. The LG-Nortel ipLDK-60 has been designed to allow Medical Centers to minimize costs and to provide a high level of Patient Care by managing incoming telephone calls with advanced features and functionality.
Value Created:
• Improved patient care
• Eliminate dropped and lost calls
• Enhanced productivity
• Cost savings
• Ease of management
• Improve patient service by ensuring that each call is handled appropriately
• Auto provisioning does not require technical expertise/support
• Access to expert support personnel
"NEVER MISS A CALL "
Auto attendant feature
A dropped or unanswered call leads to the loss of a patient, an unsatisfactory patient experience or, even worse, an impact to patient care. Through excellent service and care, you have developed loyal patients and cannot afford to tarnish your reputation or degrade the experience of your patients by missing their important calls. The ipLDK-60 Auto Attendant ensures you do not miss that patient's call and improves the overall office efficiency and productivity.
The ipLDK-60 system answers all incoming calls with a "customized" recorded greeting menu corresponding to the most popular patient selections such as scheduling an appointment with a Doctor, an emergency service or simply a general inquiry about the medical center and its services. To provide exceptional patient care, the ipLDK-60 can be programmed to forward all emergency calls to a remote extension or mobile phone.
"IDENTIFYING THE RIGHT PERSON"
Automated Call distribution feature
Automated Call Distribution is a critical feature in improving the overall efficiency of the office. Particularly in clinics where multiple professionals are working, automated call distribution can be utilized to send calls to the extension of the required professional. This application saves time and improves the patient experience by ensuring all calls are handled appropriately.
"KEEPING YOUR PRODUCTIVITY HIGH"
Voice Mail & Forward to Mobile Extension feature
When a physician or other staff member either needs to focus on an urgent task or is occupied with another patient, calls may be routed to the user's voice mail box to ensure that calls are not missed. The missed call can then be returned when the physician or staff member is available. Access to the mailbox can be achieved from the user's desk phone or a remote location through a mobile or IP Phone. When a staff member needs to be reached outside the clinic, the ipLDK-60 can route calls to a mobile extension to ensure business continuity.
Room to Grow
The ipLDK-60 modular design allows the system to expand easily as the medical clinic grows. The ipLDK-60 system grows with your business in both functionality and capacity.
ipLDK-60
HEALTHCARE
IP enabled when you are ready
VoIP (Voice over Internet Protocol) has changed the face of traditional telephony and, in particular situations, delivers efficiencies and cost savings. The ipLDK-60 advanced technology provides you the "peace of mind" that should an opportunity arise where your business can benefit from IP, the system can be upgraded quickly and easily to IP.
LG-Nortel ipLDK-60
Key Features:
"GEARED FOR SMALL BUSINESSES, REMOVING COMPLEXITY"
At LG-Nortel, we understand the acquisition of a communication system can be a daunting decision. With the ipLDK-60, the decision is easy, the system implements advanced technology but it is packaged to be friendly to people with all levels of telecommunications experience.
* VoIP Services (SIP, H.323/H.450)
* PC Soft Phone
* Automated Call Distribution (ACD)
* Centralized Attendant Service
* QSIG and IP Networking
* Conference Room (15 parties)
* PC Admin in Maintenance
* Direct Inward Dialing / Direct Inward System Access (DID/DISA)
* Call Recording
* Mobile Extension
* Call Statistics and Traffic Analysis
* Internal SMS Text Messaging
* Hunt Groups
* Multiple Class of Service with
Walking COS
* Internal / External Call Paging
* Door Phone Box
* Least Call Routing (LCR)
"CONTROLLING YOUR COSTS IS VITAL"
LCR – Least Call Routing feature
Cost control is an ongoing issue within the healthcare industry. The ipLDK-60 LCR can provide a simple but effective method of reducing costs without compromising the quality of service provided. LCR automatically selects the least expensive available route for each outgoing call. LCR can be configured to apply different routing based on the time of day and day of week. In addition, LCR access can provide automatic monitoring of all outgoing calls for specific routes or dialed codes.
"A RELIABLE BRAND"
LG-Nortel brand is very powerful as it represents sponsorship from LG Electronics which has very strong recognition in the Consumer Market and Nortel which has been providing innovative and reliable voice communication solutions for greater than 100 years.
LG-Nortel is a joint venture of LG Electronics and Nortel. Established in 2005, LG-Nortel provides leading edge telecommunications equipment and network solutions, spanning wired and wireless technologies, to service provider and enterprise clients in Korea and around the world. LG-Nortel is also actively developing next generation solutions for global markets, with over 750 skilled R&D engineers currently focused on wireless broadband technology evolution and the development of powerful new product lines.